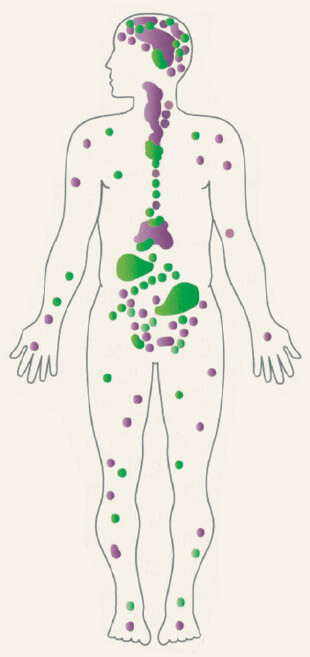 Endocannabinoids and their receptors are found throughout the body: in the brain, organs, connective tissues, glands, and immune cells.
In each tissue, the cannabinoid system performs different tasks, but the goal is always the same: homeostasis, the maintenance of a stable internal environment despite fluctuations in the external environment(1).
CB1 Receptors are abundant in the central nervous system particularly in the cortex, basal ganglia, hippocampus and cerebellum'(2) however are sparse within the brainstem(3). CB2 Receptors are abundant throughout the body however are present in much lower levels compared to CB1 receptors in the brain(2). Other potential receptors are under investigation such as GPR55 which is found in particular areas of the brain, spleen and adipose tissue however its function is only speculated(4) as too is that of CB3 receptors(5).
Sulak, D., 2015, The Endocannabinoid System, Healer.com, viewed 2 April 2016 http://healer.com/the-endocannabinoid-system/.
Lu, H.C, Mackie, K., 2016, An introduction to the Endogenous Cannabinoid System, Biological Psychiatry, Vol. 79, p. 517.
Backes, M., 2014, Cannabis Pharmacy: The Practical Guide to Medical Marijuana, Black Dog & Leventhal Publishers, New York, p.41.
Baker, D., Pryce, G., Davies, W.L., Hiley, C.R., 2006 In silico patent searching reveals a new cannabinoid receptor, Trends in Pharmacological sciences, Vol. 27, No. 1, p.p. 1-4.
Fride, E., Foox, A., Rosenburg, E., Faigenbolm, M., Cohen, V., Barda, L., Blau, H., Mechoulam, R., 2003, Milk intake and survival in newborn cannabinoid CB1 receptor knockout mideL evidence for a "CB3" receptor, European Journal of Pharmacology, Vol. 461, No. 1, p.p. 27-34.
Cannabis: The Evidence for Medical Use May 2016 Professor Michael P Barnes MD FRCP, Honorary Professor of Neurological Rehabilitation, Newcastle University. Dr Jennifer C Barnes DPsychol, Clinical Psychologist, Northumberland, Tyne & Wear NHS Foundation Trust https://www.drugsandalcohol.ie/26086/1/Cannabis_medical_use_evidence.pdf
What's in a Cannabis plant?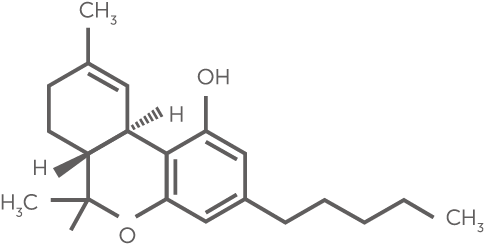 Relieves pain
Helps with relaxation
Suppresses pain from nerve damage
Stimulates appetite
Reduces nausea and vomiting
Reduces risk of nerve damage
Suppresses muscle spasms and convulsions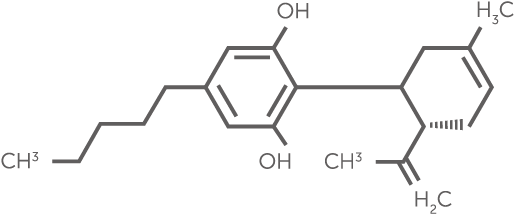 Anti-inflammatory properties
Reduces seizures and convulsions
Stimulates bone growth
Anti-oxidant properties
Anti-psychotic properties
Moderates THC side effects
Anti-bacterial
Relieves pain
Compounds effecting wellness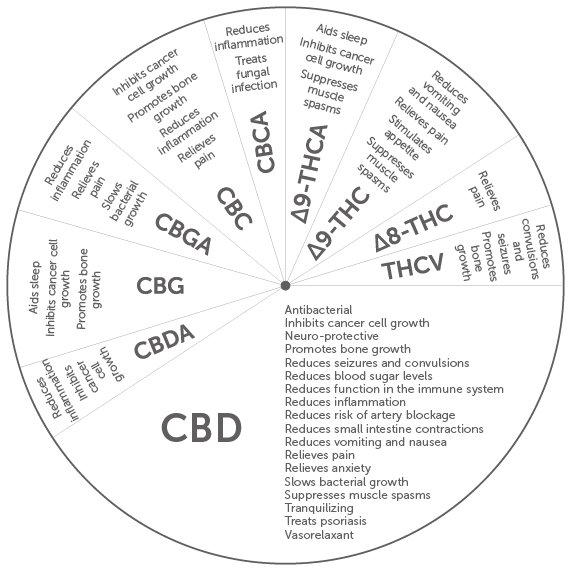 Terpenes: More than 200 in Cannabis
A-Pinene
Anti-inflammatory
Bronchodilator
Aids memory
Anti-bacterial
Also found in pine needles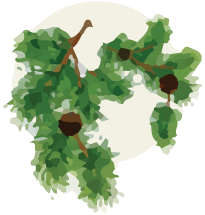 Linalool
Anesthetic
Anti-convulsant
Analgesic
Anti-anxiety
Also found in lavender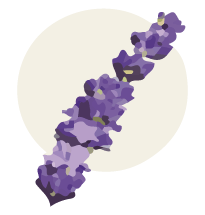 Beta Caryophyllene
Anti-inflammatory
Analgesic
Protects cells lining the digestive tract
Also found in black pepper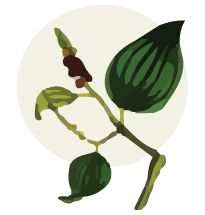 Myrcene
Contributes to sedative effect of strong indicas
Sleep aid
Muscle relaxant
Also found in hops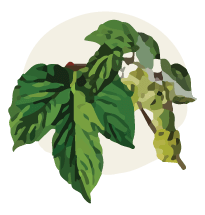 Limonene
Treats acid reflux
Anti-anxiety
Anti-depressant
Also found in citrus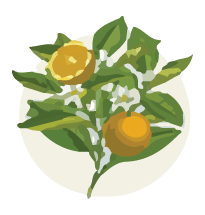 Understanding Medical Cannabis
Medical Cannabis dosing regulations
Start Low, Go
Slow, Stay Low
Adult THC Dosing: Start Low, Go Slow, Stay Low
Adult CBD Dosing: Start Low, Go Slow, Stay Low
Adverse effects and drug interactions
There are a number of potential drug-drug interactions with cannabis-based medicinal products and other medications or substances.
CONTRAINDICATIONS Cannabis is to be avoided in the following:
DRUG INTERACTIONS Pharmacodynamic Interactions
Cytochrome P-450 isoenzymes
1A2 inducement could result in decreased levels of:
2D6 Inhibition causes potential increased levels of:
3A4 Inhibition could result in increased levels of:
Cautions: Two drugs require extra monitoring
The health effects of Cannabis and Cannabinoids
In the report The Health Effects of Cannabis and Cannabinoids: The Current State of Evidence and Recommendations for Research, an expert, ad hoc committee of the National Academies of Sciences, Engineering, and Medicine presents nearly 100 conclusions related to the health effects of cannabis and cannabinoid use.
References for Medical Cannabis: Evidence and Safety/Risk Profiles
TGA Medicinal Cannabis Guidance Documents
Mike Selvey, re: Martin Crowe

The apparently hale nature of his condition was a camouflage. When he was awake, he said, he did indeed feel good, but rather than undergoing yet more chemotherapy he was by then self-medicating with liquid marijuana and sleeping 15 hours a day. Happy hours, though.